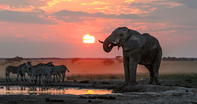 Nxai Pan is one of the Makgadikgadi Pan Salt flats in the north eastern part of Botswana. The pan at Baines Baobabs which is a National Monument is dry most of the year but during the rainy season from December to March it is transformed into massive sheets of water with a myriad of birds.
Once the rains have started the zebra, gemsbok and elephant migrates to the area. Nxai Pan becomes a garden of Eden during it's rainy months with lion, giraffe, impala, kudu, springbok and numerous smaller creatures. The waterhole is in an area that consists of a grassy plain with short umbrellathorn trees. There are also mopane woodland areas where most of the wildlife can be found on a Nxai Pan safari in Botswana.
Nxai Pan safari activities include morning and afternoon game drives, day trips to the famous baobab trees, stargazing and nature walks. See Nxai Pan safari lodges below.