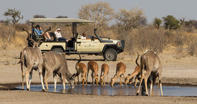 Central Kalahari Game Reserve is the second largest wildlife reserve in the world and the largest and most remote reserve in Southern Africa. Large herds of wildebeest, eland, giraffe, hartebeest, springbok and gemsbok can be found in these vast stretches of land with scrub bushes and dwarfed trees. Central Kalahari Game Reserve is home to the second largest group of indigenous hunter-gatherers in Africa - the bushmen or San.
The habitat in the Central Kalahari Game Reserve consists of grasslands, pans, occasional sand dunes and river valleys.There are many Kalahari acacias and Kalahari appleleaf dotted in between the sandveld. With the summer rains, thousands of gemsbok, eland, springbok and wildebeest find their way to the sprouting, sweet grasses from Deception Valley to Piper Pans. The legendary Kalahari black-maned lions and the fact that it is one of the best cheetah viewing sites makes the Central Kalahari Game Reserve a prime spot for wildlife lovers. You should see lion, hyaena, giraffe, warthog, wildebeest, kudu, hartebeest, springbok, gemsbok, eland, jackal, meerkat, crocodile and hippo.
Summer (Oct-Mar) temperatures are scorching. Winter (May-Aug) days are hot (mid 30s) with night-time temperatures at sub-zero. March to October are the best times to go. The mass migration is best enjoyed after the summer rains. A Botswana safari to deception valley is a highlight because of the many herbivores and their predators in the area.
See below recommended Central Kalahari safari lodges and tours in Botswana.
Central Kalahari Safari Lodges and Tours in Botswana