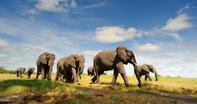 To get a taste of the wilder side of things, head to Savuti or the Savute region of Botswana for an extremely unique and authentic wildlife experience. Savuti Game Reserve lies in an ancient lake bed that is punctuated with small rocky hills, some of which hold San rock paintings within the heart of Chobe.
Named after the Savuti Channel which once fed into a great inland marsh, tectonic activity has isolated Savuti from permanent waterways and the marsh has not developed into open grassland, surrounded by acacia woodland and Mopane trees. The Savuti Channel flows in the Savute area which is part of the Okavango Delta in Botswana. This channel dries up for long periods then curiously flows again due to the tectonic rock plates below the surface of the Kalahari Desert or as other believe because of the rainfall in Angolan Highlands which feeds the Okavango and Chobe River basins in the Channel.
Savuti is well known for its resident elephant and lion population and the unique interaction of the predator species. Wild dog are also regularly seen as well as a large variety of mammals and antelope. Savuti is a favored area of wildlife and birdlife photographers and film makers and many well known wildlife documentaries have been filmed here.
The wildlife is dynamic in this section of the park especially the migration of zebras and the predators following them i.e. lions, hyenas and cheetahs. There are large herds of elephant, wildebeests, warthogs, kudus, impalas, crocodile and hippopotamus as well as the elusive Klipspringer antelope the aardvark and aardwolf and the endangered Wild dog in the Savuti Channel.The birdlife is amazing in the Savuti Marsh especially during the summer migration.
Savuti accommodation consists of Lodges and tented camps. Activities to take part in consists of morning and afternoon game drives, boat trips and nature walks with a guide. See recommended Savuti safaris in Botswana.