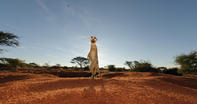 The Kalahari Desert that covers much of Botswana, and parts of Namibia and South Africa is a large semi-arid sandy savannah extending 900,000 square kilometres. The Kalahari sand dunes compose the largest continuous expanse of sand on earth. The dunes are covered with a relative abundance of vegetation because of a rainfall of between 5 and 10 inches annually, of which over four hundred species of plants have been identified in the Kalahari Desert.
Endemic to the Kalahari is the camelthorn tree which manufactures nutrients that encourage other plants to grow around its base and providing shade for animals. The animals you will find in this area has adapted to the extremely dry conditions and includes, the Kalahari lion, leopards, cheetahs, caracals, gemsbok, meerkats and social weavers a type of bird that builds huge nests in the trees. The largest of the African antelope the eland (Taurotragus Oryx) can also be found in the Kalahari Desert.
Many other birds and animals utilize the desert but they venture into the Kalahari only when adequate water is present.
Kalahari Desert Tours and Safari Lodges