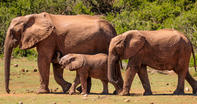 Chobe found in Botswana consists of 4 areas, each corresponding to one distinct ecosystem which is also Botswana's first national park. The Serondela area (or Chobe riverfront), The Savuti Marsh area and the Linyanti Marsh. Between Linyanti and Savuti Marshes lies a hot and dry hinterland which is little known. The Chobe River, which flows along the Northeast border of the park, is a major watering spot, especially from May through October, for large breeding herds of elephants, as well as families of giraffe, sable and cape buffalo.
The puku antelope can only be seen in the flood plains of Chobe. Spoonbills, ibis, various species of stork, duck and other waterfowl flock to the area when it is in flood. The Chobe region is well known for its annual migration of zebras and predators. The Kwando River and Linyanti River riverine is surrounded by open woodlands as well as lagoons.
In 1967, the Chobe Reserve was declared a national park. An estimated 50,000 elephants get together during the dry season in the Chobe River and the Linyanti River areas. In the rainy season they do a 200-km migration to the southeast stretch of the park. There are many activities and accommodation sites in the Chobe area.
Chobe Safari Lodges and Package Holidays