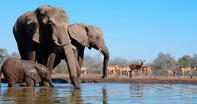 Tuli Block in Botswana is located on the eastern border with Zimbabwe to the north and South Africa to the south. The eastern section is known as the Northern Tuli Game Reserve. This diverse wilderness is where you can admire archeological remnants of a not so distant past. Admire elephants en masse in a bizarre landscape of colossal rocky outcrops dotted with sturdy baobabs, which are up-side-down trees.
Wildebeest, zebra, kudu and impala migrate along historic routes along sections of the Limpopo River, under the ever watchful eye of resident predators. The Tuli safari lodges on the reserve offer a variety of activities, from exciting game viewing in 4-wheel drive vehicles and walking safaris to mountain biking and horse back riding. Historic and archaeological sites abound; notable are the Motloutse Ruins, Pitsani Koppie sites and nearby Mapungubwe.
The summer rains in Tuli Block fall from December to March, which are the calving months. The bush is dense and temperatures soar. In April, days are cooler, and birding is good. May to August is the dry season, a great time for game viewing as game congregates around waterholes, and the bush is less dense, facilitating game viewing. Tuli Game Reserve has 366 bird species and wildlife includes elephant, hippo, lion, spotted hyaena, giraffe, wildebeest, zebra, cheetah, leopard and many other species big and small. See Tuli Game Reserve safari lodges and tours in Botswana.