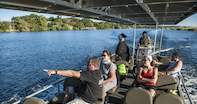 © Justin Fox
Kasane cruise on Chobe River.
Kasane is a town in Botswana which is also the gateway to the Chobe National Park. Kasane is close to where the four countries of Botswana, Namibia, Zambia and Zimbabwe almost meet. It is at the far north-eastern corner of Botswana and serves as the administrative center of the Chobe District. Kasane lies on the south bank of the 200-300 metres wide Chobe River.
Kasane is a popular access point for tourists to Chobe National Park as well as those including it in an itinerary taking in the Okavango Delta, The Caprivi Strip and Victoria Falls. Victoria Falls is 70 km from Kasane.
Kasane has a number of campsites and lodges. You can do day trips from the lodges into the Chobe National Park and boat trips on the Chobe River from these Lodges. Approximately 8 km to the East of Kasane is the The Chobe Crocodile Farm which is a great tourist attraction. Kasane obtained brief international fame as the location of the remarriage of Elizabeth Taylor to Richard Burton in 1975.
Kasane Safari Lodges in Botswana