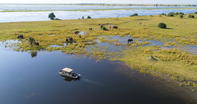 Caprivi, sometimes called the Caprivi Strip is part of Namibia lying between Botswana, Angola and Zambia. Caprivi is bordered by the Okavango, Kwando, Chobe and Zambezi rivers. This area is rich in wildlife and provide habitat for the critically endangered Wild African Dog. The Caprivi Strip is also a corridor for the African elephant that moves from Botswana and Namibia into Angola, Zambia and Zimbabwe.
The Caprivi strip of land contains the Bwabwata National Park; Mudumu National Park Mahango National Park and Popa Falls Reserve. These are all protected areas where you will find big game as well as hippo, crocodile, sable, waterbuck, reedbuck and buffalo. The Mahango is great for birdwatchers. Mudumu National Park often has large herds of elephant, buffalo, roan and the water loving lechwe. The Mamili National Park has a recorded 430 bird species and large herds of buffalo.
There are Caprivi safari lodges, camping and houseboats along the Caprivi Strip. The Top destinations are at Katima Mulilo, Mahango Game Reserve, Mudumu National Park and the Caprivi Game Park. This popular safari area can be easily combined with Botswana safaris.
Caprivi Safari Lodges and Package Holidays