Safari in Okavango Delta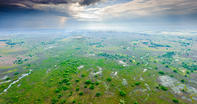 The Okavango Delta is one of the most popular Botswana safari destinations. With a good sizable portion of the country dedicated to National Parks and Reserves Botswana's main tourist attraction is wildlife viewing activities. The juggernaut being the 15,000 km2 Okavango Delta, this is an extremely beautiful and unique region of vast grass flats, papyrus mazes, low tree covered ridges and narrow, shallow waterways which open up to amber coloured lagoon and islands, which fill with water during the annual floods. Thus creating a vast green oasis in an otherwise inhospitable land.
It is here the that the waters of the country's only perennial River, The Okavango, spread across its flood plain, soaking deep into the surrounding lands. The Okavango Delta swamps is a spectacular haven for an assortment of bird and wildlife species which you can see on an Okavango Delta safari.
Exploring the wetlands can be done in a myriad of ways which include being on the back of a elephants on a guided elephant safari, walking safaris, by motor boat, scenic charted flights, 4x4 game drives and by traditional mokoro (a dugout canoe usually made from the bark of sausage trees or sometimes fiberglass) expertly poled by a local guide who stands at the stern, gently guiding the canoe through the waterways.
See Okavango Delta safari lodges and tours in Botswana.